Google Ads & PPC for Pressure Washing Businesses
At Power Wash Bullies, our team has the know-how and experience to make sure your Google Adwords Campaigns get you the most leads possible without blowing your budget!

Benefits of Google AdWords Campaigns
You can create an AdWords campaign and show up in the top position for search terms like "pressure washing (your city)" right away! In contrast, this process takes 6 to 12 months with SEO alone.
With the right keywords, you can use your campaign to target people in areas where your business operates in order to reduce wasted traffic in other regions.
You can set up a daily budget and a maximum bid for your keywords so that you never have to worry about exceeding your marketing budget for the month.
What are

Google Ads?
Google AdWords is one of the most powerful advertising platforms in existence. It works like this: you create an ad with text and pictures, then set a bid for how much you are willing to pay per click. You can set your bid as high or low as you want; the higher your bid, the more likely people will see your ad. Google places ads on its own network and also uses targeted traffic from other networks such as Facebook, Twitter, YouTube, and others.
The process is simple. You select keywords that are relevant to your trade and location and choose the "bid," or the price you will pay per click, for each keyword. Local Services Ads, on the other hand, uses pay-per-lead advertising.
The bid is not the only determining factor for ad placement. Many mistakenly believe that the higher your bid is, the higher you will rank. In reality, your bid and quality score, a diagnostic tool Google uses, play equal roles in determining ad placement. These two factors determine the relevancy of your ad to users, which is what Google values most.
How quality score is calculated:
Click-through rate (CTR): Your expected and previous CTR
Relevance: The relevancy of your ad and keywords to people's search intent
Landing Page Relevance: How relevant your landing page is to people's search intent
The higher your quality score is, the higher your return on investment (ROI) for your campaign will be and the better your ad will rank in search results. So it's important to take the time to boost the quality score and choose the most profitable bidding strategy when setting up your campaigns.
How to Structure Your Campaign
1. Choose Your Budget
The first and most important step in structuring a lead-generating campaign is to determine your monthly budget. This will guide your entire bidding strategy and can make or break your campaign's success. How? Well, if your budget is too high, you could be spending more than necessary, affecting your ROI. On the other hand, if it's too low, you risk missing out on leads. So, how do you choose the optimal budget?
We've seen the best results with a monthly budget of around $1,500. Don't worry – this is not what you will immediately spend; it is the maximum that you will spend only if your ad is doing well. When your ad performs well, that means more conversions and more sales, which boosts ROI and makes a higher budget worth it in the end.
As an example, you are setting up your campaign to target Los Angeles, CA. In bigger cities where pressure washing is priced higher, the average CPC for keywords is around $10.
Consider this example scenario for running Ads:
The CPC in LA is $10
Your monthly budget is $1,500
You run ads 5 days a week, or a total of 20 days per month
It will generate 150 clicks each month
It will generate 37-38 leads
You will close 19 of them into sales
If your average ticket is $700, you will generate $13,300 in revenue
Your immediate ROI is 8x
Your long term ROI including lifetime value is 16x
On average, the percentage of CLICKS/AD TRAFFIC that become a LEAD or a CONVERSION is around 20-25%. If your monthly budget is $1,500 then your daily budget is $75 ($1,500 divided by 20 days). With a daily budget of $75 and a CPC of $10, you can receive 7-8 clicks per day. Looking at our scenario above, you can generate $13,300 in revenue from 19 sales per month from your campaign.
Isn't the $1,500 you budgeted for your campaign worth the total you earn in sales? With the relatively fast results from Google Adwords, this is absolutely worth it for the long-term productivity of your pressure washing business. We have typically seen an overall return between 10-13x on campaigns when lifetime customer value is factored in, with immediate returns of 6-8x.
2. Select Your Keywords
Once you choose your budget, it's time to do keyword research. The Keyword Planner tool in Google Ads can provide ideas for which keywords you should target and shows the CPC. It's important to select keywords with medium to high search volume and that are within your budget to get the best return on your investment and optimal quality score.
We use three categories when selecting appropriate keywords for our clients' campaigns:
General keywords: "power washing company" or "pressure washing service"
Location-based keywords: "pressure washing in (your area)" "power washing company in (your area)" or "power washing company near me"
Specific keywords: "soft washing (your area)" or "soft washing service"
Negative Keywords
What about keywords that you don't want to show for? It's essential for a good quality score that you carefully select negative keywords. Some common ones are "free" "equipment" "supplies" and "tips." Selecting negative keywords prevents you from showing to users whose search intent does not align with your ad's goals.
Other keywords to consider:
Broad Match
Broad Match Modifier
Phrase Match
Exact Match
Setting Up Your Objectives & Bidding Strategy
1. Choose a Goal
Select "Create a campaign without a goal's guidance"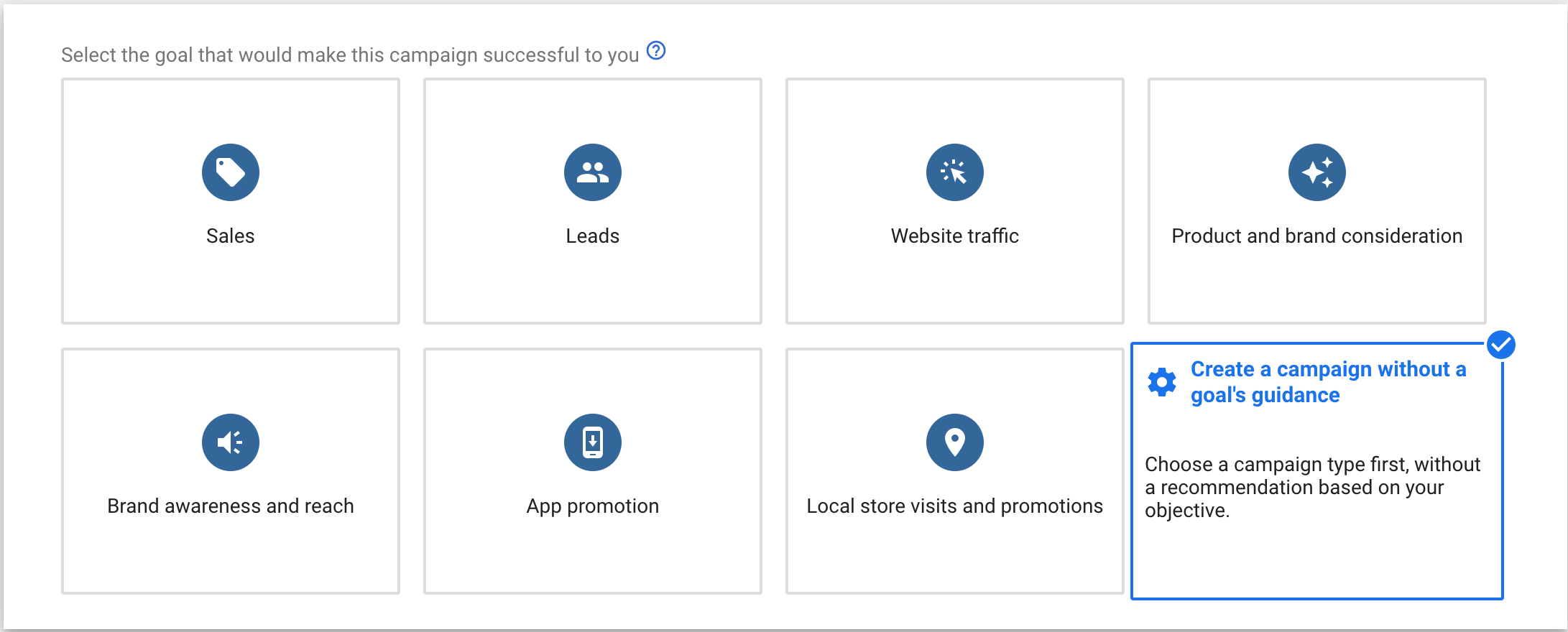 2. Select a Campaign Type
Select "Search"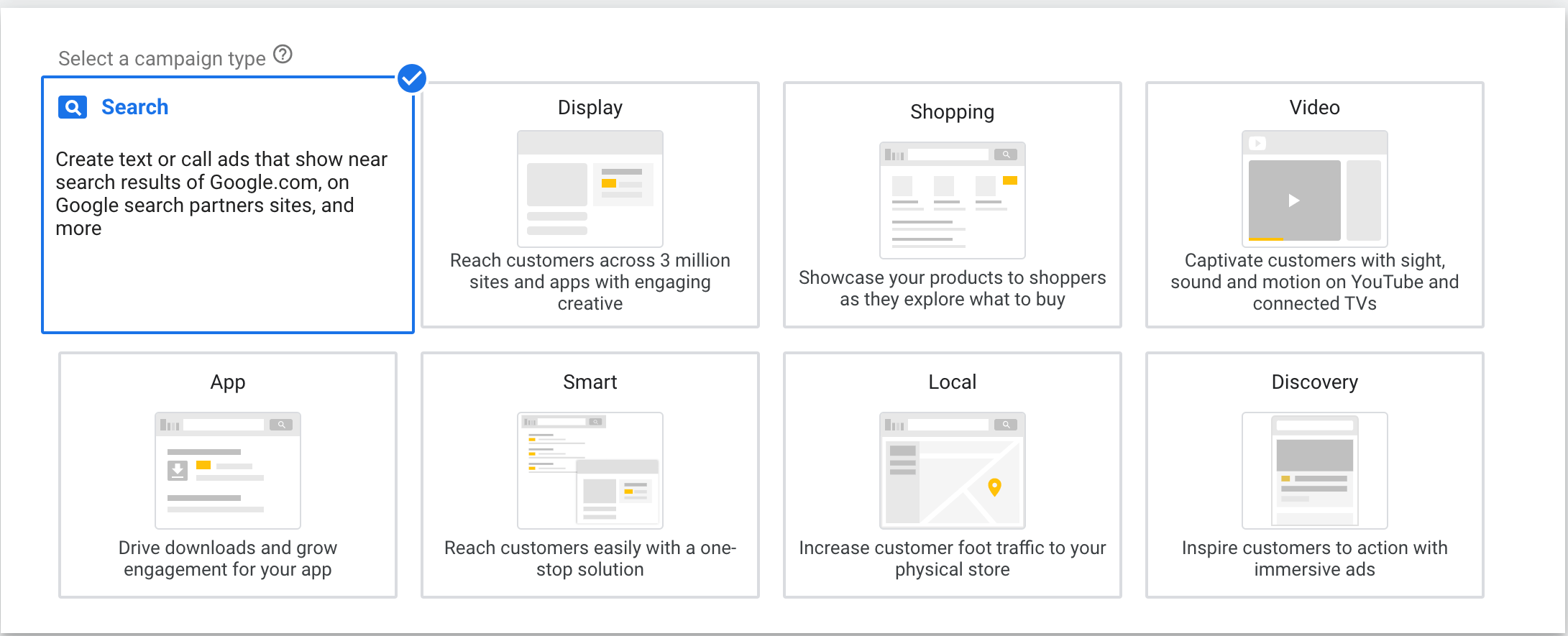 3. Choose a Network
We recommend unchecking "Search Network" & "Display Network" when first setting up your campaign.

4. Choose Locations
Enter locations by city or zip code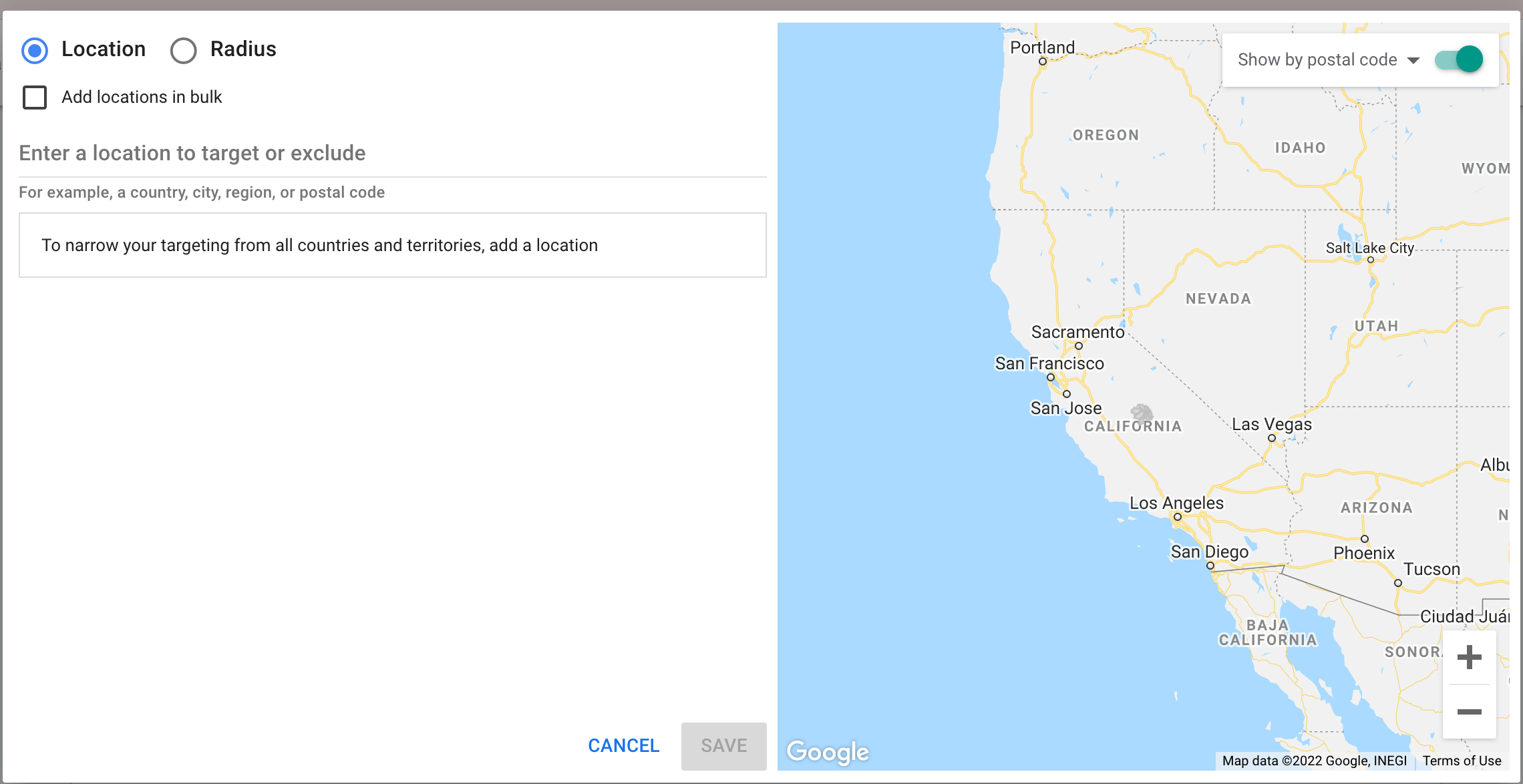 5. Choose Audiences
We have a list of audiences that perform well for pressure washing campaigns.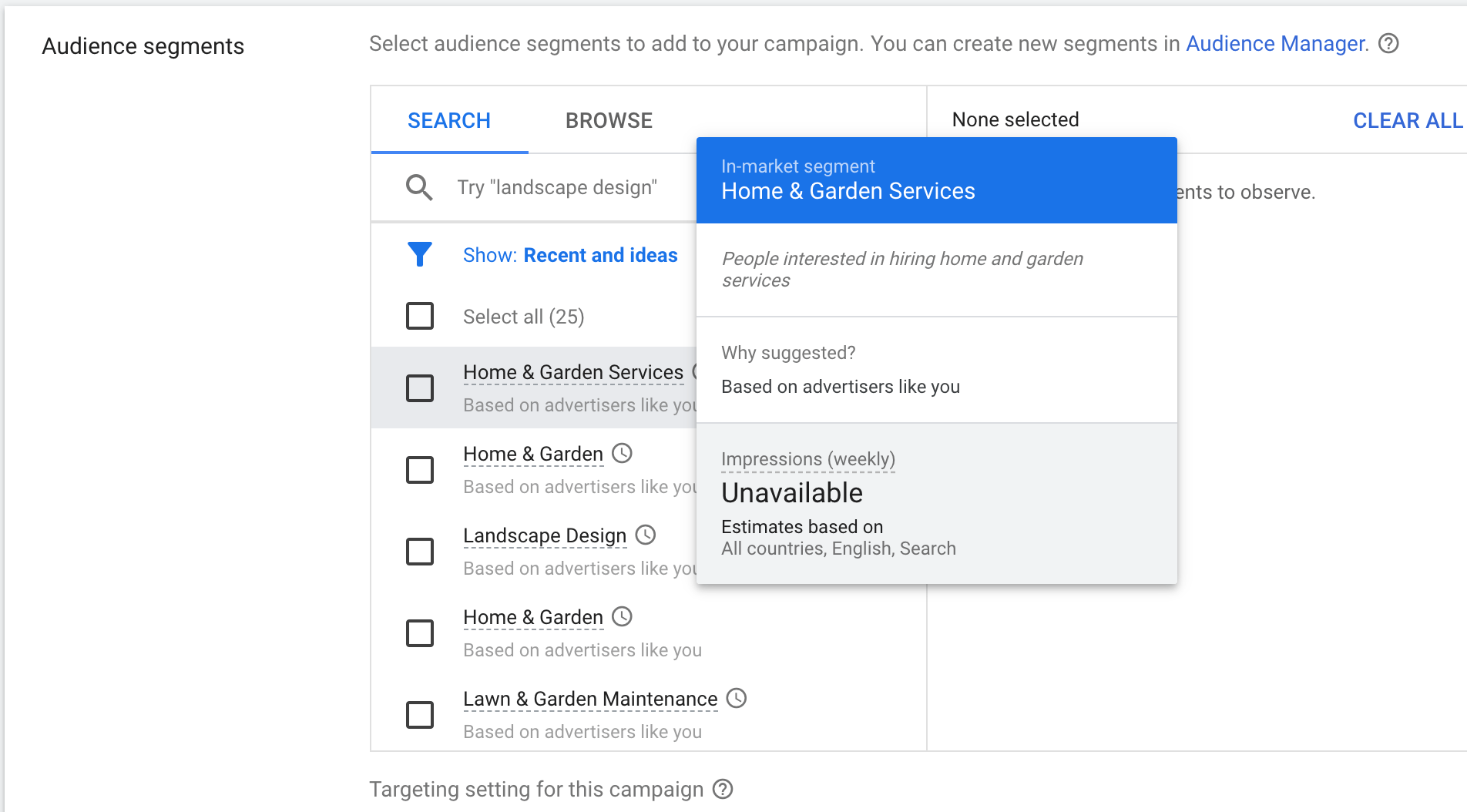 6. Enter Your Budget & Bidding Strategy
We recommend selecting a bid strategy directly and choosing Manual CPC.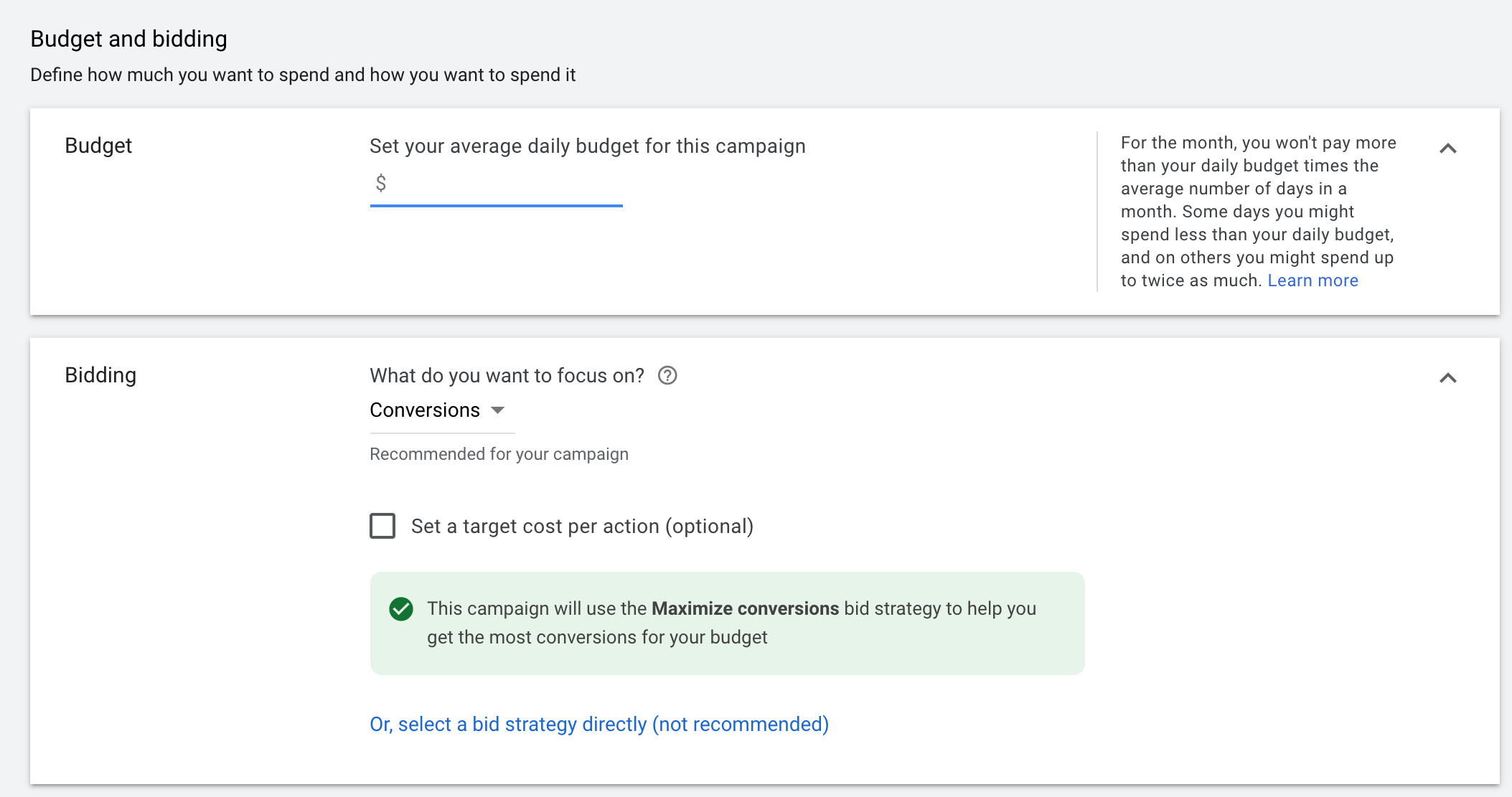 How to Structure Your Ad Group
For the best ROI and quality score, it's important to differentiate your services with organized ad groups. For example, if you want to draw in soft washing, pressure washing, and window cleaning leads, you need to create three separate groups under your campaign, one for each service.
You can then create several ads under each group. We recommend creating at least two ads each to test which has more success. One idea is to create two ads for one landing page with differing headlines and descriptions and test which generates more leads. At the beginning of your campaign, you'll need to do some testing to determine which formats are the most effective.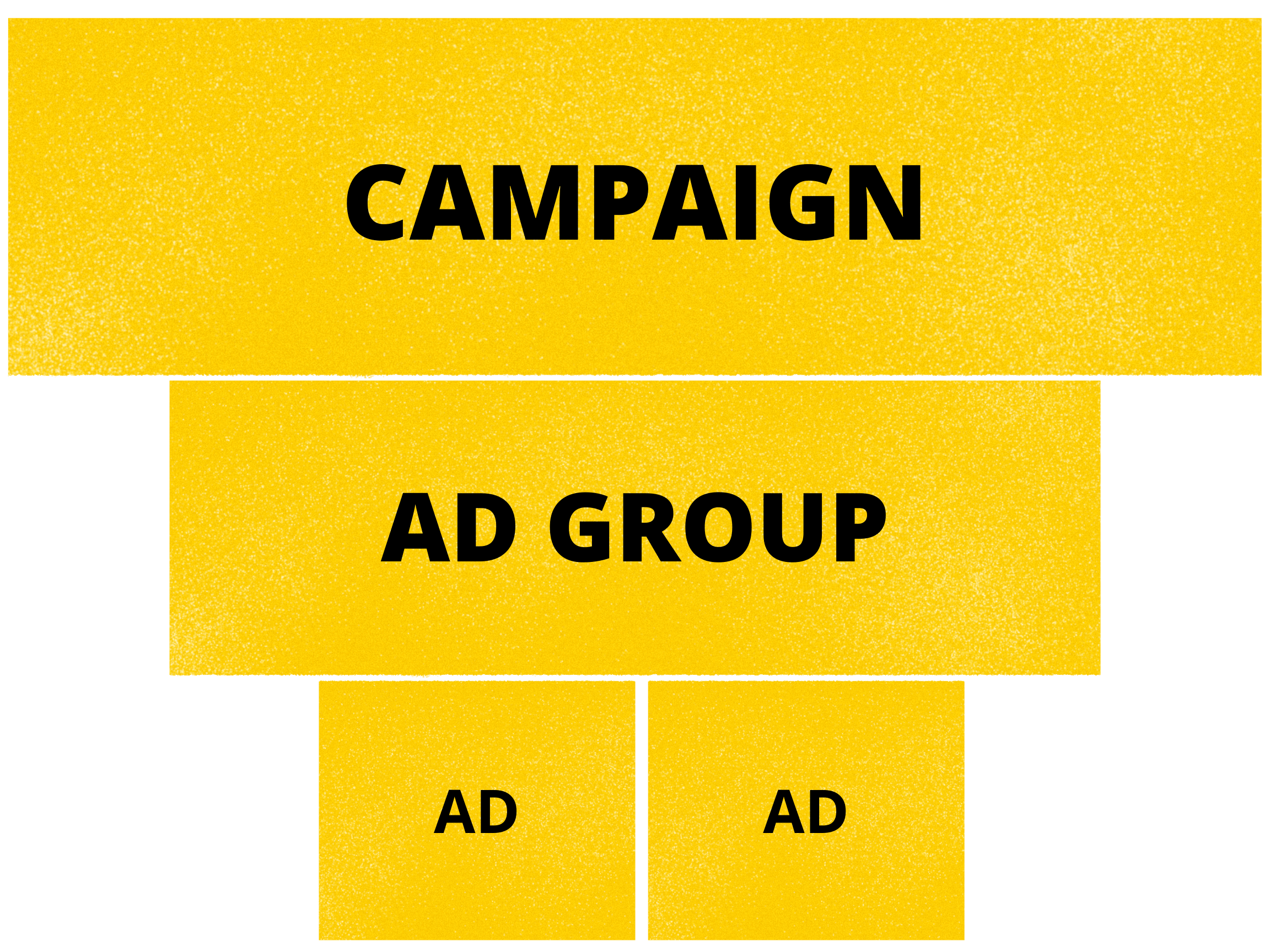 When choosing headlines and descriptions, you want to include the keywords of the service(s) you are targeting. Create engaging headlines and descriptions that will attract leads and get them to click for more information.
It's also good to include extensions to boost CTR and conversion rate. Four types that you might consider adding are callout, sitelink, call, and location extensions.
Say goodbye to relevancy and quality score if you direct your ads to your homepage. Why? Each of your groups needs its own landing page with content that's targeted to that group. For example, your soft washing group needs a landing page that only discusses your soft wash service. 
This prevents users from bouncing around your site from the homepage and not finding the specific content they are looking for.
This is one of the most important steps in any Google campaign because, in order to know how to improve your ads, you need to know what converts users.
Conversion tracking that we set up:
Phone calls from the ads – we track calls made directly from your call extensions
Phone calls from the landing pages – we track calls made from the landing page
Form submissions – we track information from form submissions on the landing page
Google Ads requires routine monitoring to ensure your ads are performing at their best and give you the most for your money. The testing process at the beginning of a campaign is well worth it in the end when you have lowered your conversion cost and boosted your quality score.
Call the Google Ads Experts Today
It's clear that you are seriously considering using Google Ads to better market your pressure washing business. We understand that this process may seem tedious and time-consuming with all the factors you need to consider.
You don't have to do this alone! We are here to help you. Our team has developed a system for pressure washing businesses just like yours to create successful ads that keep the leads coming. Give us a call today to schedule a free consultation with us.